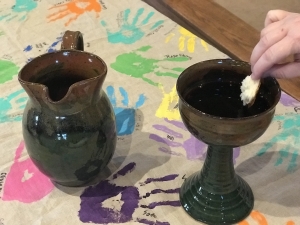 "We are invited to an inclusive meal that remembers…"
By The Rev. Beth Templeton
Jesus was a master at sharing meals. He was willing to break conventions which angered those who protected the conventions. He ate with all kinds of people. Indeed, every time we celebrate the Lord's Supper, we are invited to an inclusive meal that remembers all Jesus did for us, what he taught us, and the love and actions he still calls us to.
In our contemporary world, we strive to be inclusive at the Lord's table as well. We invite all who worship to share the meal that has been prepared for them. Unfortunately, not everyone can share the meal. People with gluten sensitivities or intolerance cannot eat the bread. People with alcohol addictions cannot share the cup when it is filled with wine.
Congregations have addressed the alcohol addiction issue by choosing to serve juice so all can partake. However, many churches have not dealt with gluten intolerance so that every member can eat the bread. This means that people are forced to either forego sharing in the sacrament altogether or at least not eat the bread.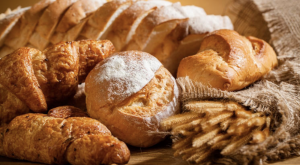 The solutions to this are relatively simple. A congregation can choose to serve only gluten-free bread. Therefore, no one needs worry about gluten contamination. Or a congregation may place a small tartlet pan with gluten free bread in the middle of each bread tray —an appreciated act. Just having a gluten-free option available on the communion table is awkward for those with gluten issues who want to partake without bringing attention to themselves.
Even if no member of a congregation has gluten issues, family members or guests who visit the church may have dietary issues and not be able to join in with the family of faith.
We can imitate the love of Christ for all by providing a way for all to join together in the sacrament of the Lord's Supper.
Beth is the Founder and CEO of Our Eyes Were Opened, Inc. is a public speaker, Presbyterian Church USA minister, and writer. For many years, she was with United Ministries, a non-profit in Greenville, South Carolina. Beth works with congregations, schools, universities, medical facilities, civic groups, and businesses in Greenville and around the country.
To learn more about Beth http://oewo.org/about-me/
https://media.myworshiptimes22.com/wp-content/uploads/sites/6/2019/06/20134827/We-are-invited-photo-thumbnail.png
80
80
dfoster
http://foothillspresbytery.org/wp-content/uploads/sites/6/2017/01/header_wh.png
dfoster
2019-06-18 18:18:35
2019-07-16 16:04:39
We Are Invited