by Richard & Susan Caldwell
It was 8:15 a.m. the morning after Easter Sunday when the phone rang. It was John, our pastor. He asked, "Are you O.K.?" Funny question we thought! Why wouldn't we be? You see, we knew there had been wind, rain and lightning during the night but had not experienced or even heard that at 3:30 a.m. an EF3 tornado hit and devastated the Seneca area – John and Elizabeth's property included.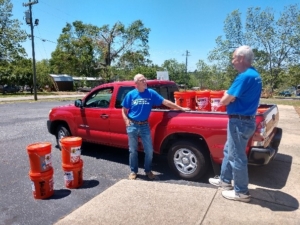 A day later we were ushered into a new level of awareness. Presbyterian Disaster Assistance (PDA) was unable to send a response team to the area because of COVID-19. Susan and I were asked to fill the gap to see what was needed since we already lived here and had escaped any personal damage. We talked with Debbie Foster from Presbytery and Rick Turner, who normally would have represented PDA. That kicked off some steps that led to a PDA grant to Presbytery for tornado relief assistance. Through them we also received from Church World Service a pallet of flood (cleaning) buckets and hygiene kits.
Next was another phone call, this time from a member of Seneca Presbyterian Church, asking for help removing a tree from a driveway. We put out word to the church members and a day later set to work. That work expanded over the next two months as up to thirty-two members, including a family of three from Townville Presbyterian, became an amazing and committed work crew. Chain saws, rakes and a lot of manual hauling of fallen trees and debris became the norm for each work day.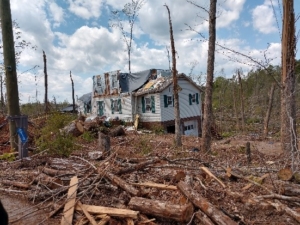 That is a summary of the "what" happened. But there were many twists and experiences encountered along the way. It is such a cliché but accurate: parts of neighborhoods looked like a war zone. The fury of the tornado shredded and sheared homes and trees. Forests of trees once reaching to the sky covered the earth like giant pick up sticks, leaf-less logs. Debris was everywhere. In the face of such force and destruction it is not a far step to become aware again of the fragile and precious nature of our lives.
Through various means the church work crew was led from countryclub-like homes to sections of Seneca where destruction had happened long before the tornado hit, destruction created by extreme poverty. We knew there were sections of the city where such poverty existed but our routes to church, stores, and eating places never took us there. Like seeing the tornado's destruction first-hand, seeing and working outside of our "bubble of comfort" brought a new awareness of how some people actually have to live and raised the question again, "Who is our neighbor?" We can't answer yet but we hope that our awareness, concern and response will not move on as did the tornado.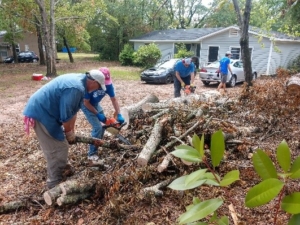 We have become impressed with the response of so many. Organizations, including state, county, faith based and others, as well as individuals, came together to assist with shelter, food, physical labor and so much more for those in need. All of this was done in the midst of the challenges of coping with COVID-19.
As for our work crew, we were deeply touched. After the first one or two days of hard, dirty, backbreaking work, along with some spiders and snakes, the crew kept showing up again and again for more work. We thought a couple of times, "They won't come this day, this week." But they did! After the first couple of days everyone went right to work, each person fulfilling an essential role in that day's tasks. And throughout the whole time, there was laughter, a great spirit and "attempts" to observe social distancing.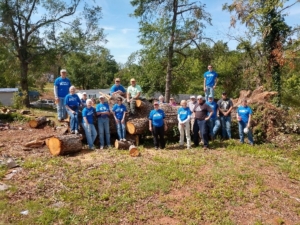 What's ahead? Blue tarps, destroyed homes, water damage, and yes, debris, still are part of the landscape. For many, many people their recovery efforts will go on way after the news coverage has moved to other stories. Our work crew anticipates making the transition from this early stage of clean-up to partnering with groups in repair and rebuilding efforts. We are part of the Oconee County Long Term Recovery Group whose efforts are just that: identifying and meeting continuing needs over the next months and even years.
We thank Foothills Presbytery and the many churches and individuals in our Presbytery who have responded with food, financial contributions, supplies, and prayers. This experience has once again made real the love and grace of God that comes when the best of humanity confronts the worst of natural disasters.
Peace!
-Richard & Susan Caldwell
On Behalf of the Work Crew
https://media.myworshiptimes22.com/wp-content/uploads/sites/6/2020/06/10101840/tornado-post-6-22-2020.jpg
551
735
dfoster
http://foothillspresbytery.org/wp-content/uploads/sites/6/2017/01/header_wh.png
dfoster
2020-06-22 01:00:26
2020-06-10 13:54:01
Twists & Takes from a Tornado