-Laura Smith Conrad, Class of 1993
"Presbyterians honor the life of the mind and insists that only a life of love exceeds it as a means of praise to God," I shared with the Class of 2020.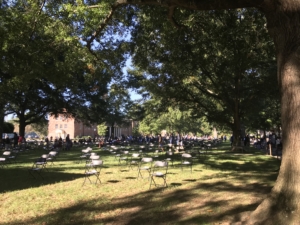 In a pandemic year, when all life was interrupted in an effort to protect one another from the coronavirus, COVID-19, the school year at Presbyterian College sputtered to a close. Graduates were mailed a degree, and families like ours celebrated on the back porch with a photo to honor the completion of a degree. We tried to mark the milestone by making up announcements and like many, made a yard sign to share the good news with our neighbors.
The closure that a Commencement Ceremony and Baccalaureate Service brings to college graduates each year, was noticeably missing.
On October 3, on the grassy plaza facing the historic Neville Hall, hundreds of masked faculty, graduates, and families gathered to hear inspiring and comforting words, and to hear her or his name called honoring this significant step. As many of our celebrations have been of late, the mood was subdued, poignant, and, even more reverent, due to the gravity of the state of our world. In a matter of days our lives changed drastically.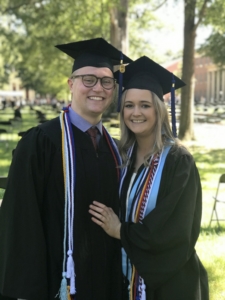 Among those graduates was our son, Avery Conrad, and his friends, who still posed for the typically photo at the front sign, but noticeably missing were the parties and celebrations. Some students watched live stream from other parts of the world as they served in the military abroad or returned to their home country.
True to our college motto, "While I live, I serve" the commencement was a celebration of service. Allen McSween, a member of Foothills Presbytery, was honored with an Honorary Doctor of Public Service Degree for his many years of service to Presbyterian College. Allen, a Clinton native, and grandson of the 11th President of PC, served on the Board of Trustees from 2007-2016. He served on numerous committees of the college, Board of Visitors and the Board of Church Advisors.
David Taylor, PC Class of 1981, received the Dum Vivmus Servimus Award for his work with Momentum Bike Club. Established in 2010, Momentum Bike Club has grown to 16 bike clubs that serve 225 students. It has received state and national recognition as an innovative intervention that provides mentoring support to under-resourced students in Greenville and Pickens Counties of South Carolina.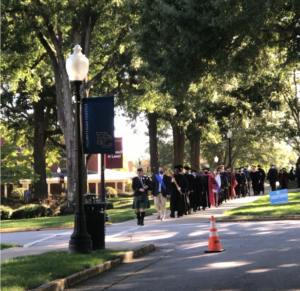 I had the privilege of speaking to our son's class at the Baccalaureate service on the theme "Rebuilding the Uncommon Good." Our text was Nehemiah 2:1-5, 17-18 calling upon the class to be living stones who are built into a community that serves the greater good. Having a college degree places them among the top 5% of our global society. I reminded them that with great privilege comes responsibility. Jesus said, "From everyone to whom much has been given, much will be required; and from the one to whom much has been entrusted, even more will be demanded." (Luke 12:48b). Recalling the destruction of Nehemiah's world, we noted the brokenness in our world concerning the pandemic racial justice, division, and economic challenges. Instead of building walls as Nehemiah called for, we are called to build connections. In closing, I charged the class with these words and concluded with the hymn, "Here I am, Lord," calling us to service and praying that God would take our hearts of stone, and make them hearts for love alone.
So, I challenge you tonight, commit yourselves to the common good. Actually, in a time when the ideal of the common good seems like a lost value, I challenge you to rebuild the uncommon good.
And rather than rebuild a temple like Nehemiah and the people of God did, I challenge you to rebuild with the stones that are most needed in God's world today:
Like honesty, integrity, compassion and empathy, that have been part of your holistic education at Presbyterian College. God does not live in a Temple but is Sovereign over the whole world. This world is God's sanctuary without walls. We have been given the gift of life. How will we return the favor and give back to God? How will we serve the world?
I pray you become living stones, sharing the most desperately needed gifts of the Holy Spirit;
faith, hope, but above all love. Christ doesn't change minds as much as he changes hearts. And through the undying love of God, we have been created, redeemed, and sustained.
I pray that your heart will be the most important gift, or living stone, you give in return.
May it be so.
https://media.myworshiptimes22.com/wp-content/uploads/sites/6/2021/01/06104302/1-17-21-PC-Bagpipes-Marching.png
791
816
pcox
http://foothillspresbytery.org/wp-content/uploads/sites/6/2017/01/header_wh.png
pcox
2021-01-17 01:00:44
2021-01-06 11:53:07
Presbyterian College Holds its One Hundred Thirty-Seventh Commencement in October