PSA (Presbyterian Student Association)
Clemson University/Fort Hill Presbyterian
by Al Masters
"He's baaack!"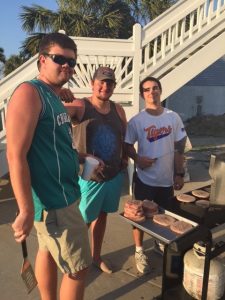 Laura called after a thunderstorm on a hot, muggy summer afternoon. Would you be interested and willing to come back to PSA as Interim Associate Pastor? Kelly had just resigned as she was moving on to chaplain residency, I was just finishing an Interim position at Tyger River Pres. near Spartanburg, and wondering what next road would rise up to meet me. Perfect timing!
But would it work? An almost 70 year old, very low tech, pastor returning to Clemson and college students after being away for three years…I was excited about the opportunity and anxious about being effective.
Flash forward to summer 2017…what a year! Another Game Day with Louisville, the Tigers go on to win the Natty, students accept the old guy again, YAV Intern Linda arrives from Korea, Alex choreographs "over the top" PSA Sunday, we make a new Clemson fan, Pam, in West Virginia, on the mission trip, and hear an exclusive David LaMotte concert in Montreat fall retreat.
As Fort Hill Pres. completes necessary renovation and considers the shift from attractional to missional perspective, so PSA also takes an extended Interim pause to begin developing a long range strategic plan for future sustainability partly driven by the need for additional funding. In other words, I get to work and play with the students another year-how cool is that!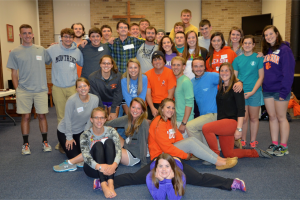 Transition times are great opportunities for fresh energy and ideas as well as anxious times as the future path unfolds. As seniors graduate and new freshmen arrive, we now push the "pause" button to evaluate and re-examine the past as we prepare for new leadership. In addition to working with a super, proactive student Council, my task is to build relationships with neighboring PCUSA churches and contact PSA alums to collect stories and support. We plan to hold regional gatherings of alums and celebrate all the campus ministers and Interns who have served PSA and cultivated over 50 servant-leaders for the PCUSA. My "research" will focus on three basic questions: what did, does PSA mean to you as a student? How important was staff leadership (Directors and Interns)? How important was the building?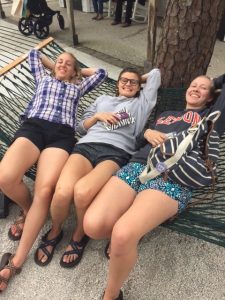 We will keep some PSA sacred traditions—Old Stone worship, senior night, Christmas party, spring mission trip, fall retreat, beach week, PSA Sunday, as we also explore becoming a more diverse community engaged with the University at large, especially the international students, and continue to deepen relationships with Fort Hill members.
As students and culture change over the years, we keep constant our priority commitment to nurture and challenge their spiritual journeys, to provide a safe place for hard questions and honest fellowship, to assist local churches in honoring baptismal vows of support and confirmation. It's a privilege to be a link in the wonderful history of Fort Hill and Foothills Presbytery role in campus ministry. Even though I could (maybe should) retire, it's pretty cool to be with such gifted, bright, funny and dedicated students as they mature through the college years. Sure beats playing golf (I'm lousy) and sitting around with a bunch of seniors talking about our latest colonoscopy!
https://media.myworshiptimes22.com/wp-content/uploads/sites/6/2017/06/20135357/featuredimage85x85.png
85
85
dfoster
http://foothillspresbytery.org/wp-content/uploads/sites/6/2017/01/header_wh.png
dfoster
2017-06-12 14:16:21
2018-07-02 13:23:23
per·spec·tive