RE-IMAGINE SUMMER 2020
Dear Pastors, Educators, Youth Ministry Professionals, & friends;
Camp Fellowship is READY for summer 2020!
We've re-imagined and answered the challenge of our present program situation by continuing to offer Summer Faith-Formation experiences – in a little different way this year.
We need your support as we fulfill our mission this year through our re-envisioned summer programs. A gift from your congregation will be a gift to each family and to the young adults that will be impacted through this summer. Your support this summer will also help to sustain and insure the future of our ministry as partners together once this current crisis subsides.
Please take a moment to read below and follow the links to learn more and pledge your support to Re-Imagine Summer 2020.
Executive Director
Kevin Crabtree

We are re-imagining Summer Camp with children, youth and families this summer!
This will be a summer like none before with opportunities to engage as the community of faith in real and meaningful faith formation
Join us in making this a summer "re-imagined" with amazing possibilities for outreach and sharing the Gospel of Jesus Christ in the homes of your church families and in your community!
We need your support to make it all possible!

Summer Internships
Intentional Community
We are creating an internship experience centered on intentional Christian community for six young adults this summer.
Your support will help us to foster an environment of learning, service and outreach that will shape the lives of these young adults and the future of our ministry with staff in years to come..
This program will include intentional Christian community practices, reflective learning opportunities and experiences in leadership and service to the church and larger community.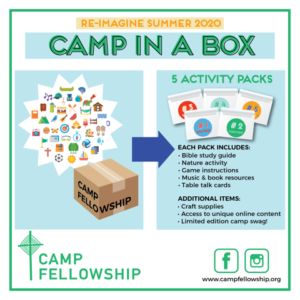 Camp-In-A-Box
For EVERY Family
We will be sending this amazing resource to EVERY Camper Family that attended in 2019 AND to other families who want to be a part!
With your financial support, we will be able to underwrite this program and share these boxes FREE OF CHARGE with:
Camp Fellowship Families who attended in 2019.
Families of children and youth (k-12th grade) in your congregation who might not have attended in 2019.
Children in the communities you serve who may not be connected with any congregation.
Summer Re-Imagined Ministry Goal: $60,000
We invite you to become sustaining ministry partners as we dive deeply this summer into the call to connect with God's people in new and exciting ways!
Your individual or congregational contributions will make this a
Re-Imagined Summer to Remember!

Since 1948, Camp Fellowship has provided unique summer programs for children & youth of all ages. We strongly believe camp is for everybody and work diligently to create exceptional programs that engage campers and guests in faith formation, community building, personal growth and development, and fun!
Join us this summer for our 72nd summer on the lake!
REGISTRATION FOR CAMP FELLOWSHIP 2020 IS NOW OPEN!
Traditional Summer Programs, Day programs and more!