Camp Fellowship provides Housing for the Imani Milele Choir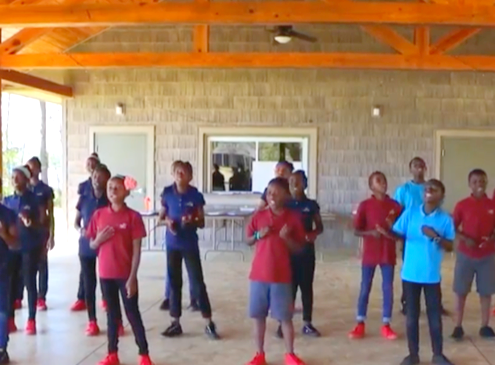 The resident population of Fellowship Camp and Conference Center, located on the shores of Lake Greenwood, grew last week – a lot.
The Imani Milele Choir, which includes 21 children and a support team of 16 adults, is a Christian nonprofit organization that raises awareness about Uganda's three million-plus orphans and vulnerable children. They use love offerings received during their choral performances to help improve the lives of children in poor communities in Uganda by equipping them with the necessary skills for developing into self-sufficient and productive individuals.
Their tour dates over the next eight weeks were all canceled due to the Coronavirus COVID-19 precautions. They were scheduled to preform at two Laurens area churches and it was previously arranged for the choir to stay at the camp during their tour dates here.
With normal operations suspended, the camp's Board of Directors met and along with staff made a commitment to shelter, feed, and nurture the group until such time as the immediate crisis ends and the choir is able to travel again. (See the WYFF news story here)
You can help provide food and shelter to these children and adults by making a donation to Fellowship Camp and Conference Center. At this time, monetary donations are most helpful and requested because we are able to receive supplies and food through our normal supply channels. By continuing to purchase and receive supplies from our normal supply lines, we are able to receive the quantities needed while not depleting the shelves of local stores in our community and beyond. To make a donation to support Fellowship Camp and Conference Center in our efforts to shelter and feed our new community and to respond and recover from the Covid-19 crisis please click on the button below:

Since 1948, Camp Fellowship has provided unique summer programs for children & youth of all ages. We strongly believe camp is for everybody and work diligently to create exceptional programs that engage campers and guests in faith formation, community building, personal growth and development, and fun!
Join us this summer for our 72nd summer on the lake!
REGISTRATION FOR CAMP FELLOWSHIP 2020 IS NOW OPEN!
Traditional Summer Programs, Day programs and more!