By Ginna Lister
On January 11, 2015, Easley Presbyterian Church dedicated a new addition/renovation project. Part of that addition was a beautiful, covered patio in our big backyard.   Over the past 5 years it has been used for various programs including: a Vacation Bible school tent village and closing celebrations, children's Christmas pageants, many youth gatherings on Wednesday afternoons, outdoor concerts and many, many informal gatherings.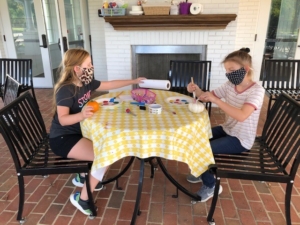 Who knew that in the year 2020, it would become a place of faith formation and fellowship for EPC's youngest members?  After closing the church in March, we re-opened on Pentecost with in-person worship only.  During the summer, I offered Virtual VBS, Zoom Sunday School, and Camp-In –a- Box to keep things going the best we could.  However, one thing was missing and that was having the children actually at the church, the place so many gathered on a weekly basis and had been abruptly cut off.
Our pastor, Bill Seel shared an idea that he had seen called "Popsicles on Porches" – where a DCE in the low-country had ventured around to homes to offer a popsicle on the porches of church members.  I thought about that and then looked out my office window one day and was reminded of our wonderful patio in the big backyard of the church.  Popsicles on the Patio was born! To do it safely, each family was given a time to come to the patio so that I could have safe, one-on-one time with them.  We played, we laughed, and we ate popsicles together! And that was the key – we did it together.  After months of not being at church, I felt it was so important to get them back here in any way possible. Almost every family with elementary and preschool children in the church came that month for our special time together.  As one little girl got out of the car and ran down the hill toward the patio, I heard her exclaim, "I remember this place!" At that moment I knew that it was worth it.  To have memory of this sacred place that has nurtured, taught, and loved those little ones for the first years of their lives.  I would be sure they wouldn't forget.
And because I love a theme, Popsicles on the Patio in August turned into Painting on the Patio in September, Pumpkins on the Patio in October, Pinecones on the Patio in November, and Presents on the Patio in December!  Currently we are having fun with Penguins on the Patio and next month will be Pen Pals on the Patio -making Valentine cards for our shut-in members.
This ministry of presence, yes "Presence on the Patio" has strengthened my soul during these dark times.  Having a chance to re-connect monthly with each family has proven to be so valuable. While we cannot all gather at once, each child knows they are loved, they are valued, they are missed,  and that the church is still here!
In my mind, I dream of the day when we will have a Party on the Patio and all children and all families will gather safely once again in fellowship and as the body of Christ!  Until then – see you on the patio!
https://media.myworshiptimes22.com/wp-content/uploads/sites/6/2021/02/01100657/2-14-21-presents-on-the-patio.jpg
640
480
pcox
http://foothillspresbytery.org/wp-content/uploads/sites/6/2017/01/header_wh.png
pcox
2021-02-14 01:00:58
2021-02-01 10:14:09
…on the patio