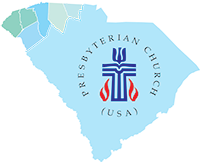 August 10, 2015
Dear Sisters and Brothers in Jesus Christ,
On August 9th Foothills Presbytery held its summer stated meeting near the shores of Lake Hartwell at the historic Roberts Presbyterian Church in Anderson County, South Carolina. Upon the unanimous recommendation of the Unity and Community Team (Foothill's Bills and Overtures Committee), commissioners passed all eight GA Overtures proposed by the Foothills GA Reform Group.  I will be posting these to the Office of the General Assembly, so soon they will be ready to receive concurrences.
It has been a busy time in the days leading up to the approval of overtures.  Here are some highlights:
 GA Reform Articles:  Five members of the GA Reform Group have written articles which we hope will be published in The Presbyterian Outlook.  In June I met with Jill Duffield, the Editor of the Outlook.  We are hoping that these articles will be published throughout the fall months.
 ACSWP Consultation:  Per the requirement to consult with GA entities affected by any overture, the GA Reform Group opened a consultation with the Advisory Committee on Social Witness Policy regarding Foothills Overture #3 which calls for a different mode of operation for ACSWP for the next 3 General Assemblies.
 GA Stated Clerk, Gradye Parsons, contacted us to set up a meeting with himself, Tom Hay and three members of the Committee on the Office of the General Assembly.  We had a joint meeting at Foothills Presbytery Office on July 18th.  It was a frank and excellent exchange of ideas.  We heard challenges to some ideas we are forwarding, but also recommendations for how to clarify and improve four of our overtures (#1, #2, #4 and #6).  Those changes were made.  Our guests also recommended that we create a 9th overture.  This overture will be asking GA to form a national GA Reform Group and lay out a summary of the essential principles that stand behind the eight we are submitting.  Our GA Reform Group plans to create that overture and submit it to the November Stated Meeting of Foothills and then post it with OGA.
 Through many conversations that I have had at various General Assembly gatherings and from a host of emails we have received not only many kind words of thanks for taking the lead in this work, but also a number of very helpful suggestions for clarification and change. These were incorporated in the intensive "perfection" process that took place in the weeks leading up to the August 9th Presbytery Meeting.  Of special significance are the changes in Foothills Overture #1.  We heard many confirmations that ten years was too long a period to consider Constitutional Amendments and so that number is now six years. Further we heard that the bar of needing 1/3 of presbyteries to concur as being far too high.  Therefore we changed that concurrence requirement to 15% (26 Presbyteries) to concur to move forward with considering constitutional change.
 Presbytery Website:  Through the hard work of the Foothills Presbytery Office Staff we have launched a new website for the presbytery.  The website has a special section related to the work of GA Reform.  Please take a look.
 Polity Conference Presentation:  We have received an invitation to lead an educational section at the GA Polity Conference on Monday, October 12 in Portland, Oregon.  We hope that many of you will be able to attend and join the conversation.  We will produce a PowerPoint presentation for that meeting and it will be posted on our website for those who cannot attend.
 Social Media:  To hopefully stir input and conversations we will be launching a closed Facebook group.  The link to this will be on our website and I'll send out a notification when it is up and running.
Below you will find a link to a PDF of the eight Foothills Overtures.  Let me conclude with a summary word about our efforts and these overtures.  It has truly been an amazing year in the life of Foothills Presbytery.  The GA Reform Group came together and represented a true mix of Ruling and Teaching Elders who believe and think very differently about many issues.  There are self described conservative, moderate and liberal members of the Group, but this work brought all together to work for the health of our national church.  The Group fully understands that the work of serious reform, renewal and refreshment is the work of years to come.  We recognize that our work and these particular overtures are simply a first step in seeking to help us to fully engage in the patient and hard work before us.  But the group also recognizes that for health to be restored, for real reform instigated and for a refreshing sense of renewal to be enlivened, then the PC(USA) at every level needs to recommit to a real and vibrant practice of our connectionalism.  And so it is our hope that our efforts to share the work through these national emails and through the many personal conversations and emails that we have had, will be the start of a new engagement.   In our view every congregation and every Council of the Church needs to engage in the work of reform, renewal and refreshment.  To that end, we offer this first step.  We hope that every presbytery will share our work.  We hope that many, many presbyteries will offer concurrences to one or more of our overtures.  We hope that other presbyteries will share their reform overtures with us.
In sum our work has welled up out of a great love for the PC(USA) and a dear hope that God will energize us to strongly reclaim the strengths of our Reformed heritage, but also give us fresh visions of how we need to be structured and organized so that we might truly be a 21st Century Church.
On behalf of the Foothills GA Reform Group let me say a word of deep thanks for the support already received.  We look forward to working with you as we move into God's future for the PC(USA).
Grace and Peace,
Gordon
Rev. Gordon W. G. Raynal
Interim Presbytery Pastor & Stated Clerk
Foothills Presbytery
Link to GA Overtures August 9 2015
https://media.myworshiptimes22.com/wp-content/uploads/sites/6/2015/06/20140613/PC-logo-with-state-copy.png
162
200
lwhite
http://foothillspresbytery.org/wp-content/uploads/sites/6/2017/01/header_wh.png
lwhite
2015-08-11 11:54:37
2015-08-11 12:00:05
National GA Reform Letter