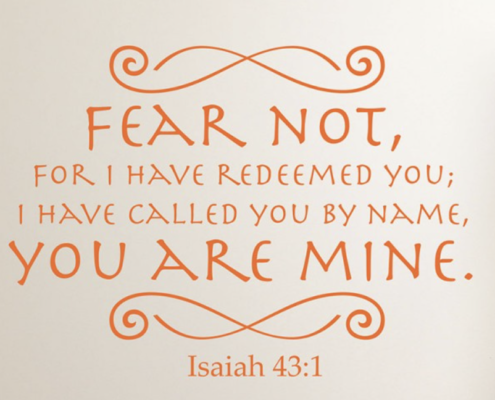 by Julie Schaaf
Isaiah 43:1
Mark 4:35-41
Many of you have heard me speak of my Lenten practice of drawing the name of a person out of a bag each morning and praying very intentionally for them all day long.  I usually text the person first thing and ask if they have any special requests.  One day this week, I drew the name of a fellow pastor and her reply really gave me a lump in my throat.  I won't mention her name because the prayer requests are confidential, but this is what she asked: "Please pray for my ability to share with parents of our youth the questions their young people asked last night about the state of our world and their fears and desires to stop violence and prejudice."
What thoughtful young people she must have in her church.  And I think they articulated the fears that many of us have.  Fear is prevalent in our individual lives, and in our corporate lives in the communities, schools, and even churches in which we live and work.  And if the state of the world is not enough to scare us, there are plenty of other things that bring anxiety to our lives.  Fear of disapproval, rejection, failure, illness, losing one's jobs, money problems, isolation, aging – the list could go on and on.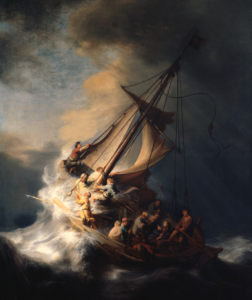 And so we might stop and wonder if being in a boat on a lake in the middle of a storm is worthy of the terror that the disciples exhibited but let's take a closer look at their circumstances.  Jesus is with his disciples in a boat on the Sea of Galilee.  Mark tells us earlier in the chapter that so many people had started to follow them that he got into the boat, went out into the lake and preached there.  All day, his pulpit had been the very boat.  Finally, at the end of the day, exhausted from preaching and teaching and sharing parables with everyone, Jesus told the disciples to move away from the shore and fell into a much-needed sleep.
But as it often happened on the Sea of Galilee, a great storm came up out of nowhere.  The Greek word used is actually "whirlwind", conjuring up all sorts of pictures of violence and turbulence in my mind.  I can all but see the winds causing the lake to foam all around them, jumping up high like angry monsters waving their whitecapped fists.  And what started out as a simple time of rest, away from the growing crowds, became an evening of fear and tumultuous emotions as the terrified disciples woke Jesus up and said, "Don't you care what is happening?"
As modern Christians who know that Jesus proceeded to calm the seas with his voice, it is sometimes easy to criticize the disciples and wonder, like Jesus did, why they don't have more faith.  But let's look at it this way – basically what you have is a community of believers in Jesus Christ, who, in the guise of disciples, are challenged to trust Jesus more.  And when their faith in his presence was really tested, they cried out, "Don't you care?"  Sound like anyone you know?
Well, it should.  Because everyone here has been in such a storm, EVEN if you've NEVER been in a boat!  You are rowing along, headed for the finish line when all of the sudden, out of the blue – the test comes back positive.  Your daughter gets divorced.  The car won't start, the baby is sick, you drop your cell phone in the bathtub, or there is a traffic jam on the interstate.
Whether it is a disaster of great proportions or a seemingly insignificant bump in the road, an unexpected storm will bring to us the SAME emotions that the disciples experienced in the boat.  Fear, terror, feelings of abandonment.  The good news is that the reaction of Jesus can calm OUR storms the same way he did the storm on the Sea of Galilee as we seek to give up fear.
You see, this story helps us answer questions that will strengthen our faith.  And when you get right down to it, faith is the opposite of fear.  The question that the disciples ask is this:  Who is this Jesus?  They are seeing first hand that Jesus has command over the created world.  By calming the storm, Jesus does something that is normally reserved for God.  This is so startling that it causes the disciples to pose the question, "Who is this that even the wind and the sea obey him?"  And in the Gospel of Mark, where Jesus seems so intent on keeping his identity a secret, it is an important step in setting his closest friends on the path to discovery.
But that is not the same question that we have, because we already know that Jesus was present at the creation of the world.  It stands to reason that he has dominion over that which he made.  So in our quest to give up fear, a more important question is "Who is Jesus in my life"?  Does Jesus have authority over the chaos that you and I face?  Do we seek his wisdom through prayer and Scripture and truly being modern day disciples who are surrounded daily by those with like minds?
And if we can answer "yes" truthfully to all of those questions, then why would we fear?  Well, maybe it is because this story sheds light on the Divine side of Jesus and we need to have the human side, the "God walking around with skin on" Jesus, when we are afraid.
Minster Reynolds Price tells of an 87-year-old woman who wrote to him about one of those moments when she needed the human Jesus in her life.  She was facing a time of difficulty as she was going through exhausting medical tests in preparation for surgery.  One day she had a kind of vision.  "I went out along the Galilee hills and came to a crowd gathered around a man, and I stood on the outskirts intending to listen.  In my vision, I could see that the man is God.  But he looked over the crowd at me and then said, 'What do you want?'  And I said, 'Could you send someone to come with me and help me stand up after the tests because I can't manage alone?'   The man thought for a moment and then said, 'How would it be if I came?'"  (1)
This is so relevant because when you think of it, Jesus does not say that there is nothing to fear.  He simply says, "DO NOT BE AFRAID".  Jesus knows that we live in a fearful world full of fallen people who will do terrible things.  In fact, it is probably wise to have a certain amount of fear.  No, Jesus says that fear does not have the last word when we confront it with God by our side.
This is precisely what God has done in Jesus Christ.  Jesus is Emmanuel, God with us.  God has come to us in our suffering and pain, in our struggle to be human, in our fear and anxiety, and in our doubt and uncertainty.  Jesus put off deity and put on humanity.  He became one of us–one with us–one for us.  That is why the prophet Isaiah shares the promise of God, "Do not fear, I have redeemed you.  I have called you by name, you are mine."  When we belong to God, when we know that God walks with us in every storm in life, we can give up fear.
But perhaps an even more important question for Jesus' disciples then and now is this: "Have you invited Jesus to come into the storms in your life?"  The disciples did.  They said, "Wake up – don't you care what is happening?"  Yet even after they invited him in, they were a little hesitant to allow him to ride out the storm with them.  Their invitation was somewhat half-hearted.
I say this because, after they witnessed the miracle of Jesus calming the storm, Mark tells us that the disciples were filled with great awe.  But the word "awe" in Greek can also be translated as "fear".  This means that, even when they began to suspect that Jesus was God himself, they were still afraid.  The idea that God was with them so closely scared them almost as much as God not being with them.
And maybe it is because real miracles upset people!  We see this throughout Scripture in the Pharisees reactions to Jesus' healing or when the townspeople were so afraid after witnessing a miracle that they begged Jesus to leave their neighborhood.  (Matthew 8:34) You can bet there were some folks who were upset when Lazarus climbed up out of the tomb after four days of being dead because it is not what we expect.  Miracles force us all to come face-to-face with the power of God, the mystery of God, and we all know that we tend to fear anything that we cannot explain.
One of my favorite ministers and story tellers is Fred Craddock.  He tells the about a pastor he knew who went to visit one of his parishioners in the hospital. The woman was suffering from a terminal disease, and the pastor went to visit her knowing that, at the end of that visit, he would pray one of those prayers that acknowledges the desperation of the situation.  A prayer that puts it out there on the table that not much is going to change.  A prayer to help the woman and her family move towards acceptance.
As a minister, I knew what kind of prayer he was speaking of, as I have prayed them often.  They are honest and pastorally sensitive, and often they are the only appropriate kinds of prayers to pray.  They go something like this. "Oh God, we thank you that you are with us in every circumstance, even this one.  And so we simply ask that you give us the courage to accept your will for our future, whatever that will is.  Now we place ourselves, with trust, in your all-knowing hands."
The pastor went there prepared to pray that kind of prayer, as Craddock tells the story. But the woman prevailed upon him to beg God to heal her.  And so, against his better judgment, he prayed a different kind of prayer altogether.  He prayed fervently, even while he understood what a long-shot that prayer was.  And then when that prayer was over, he left that room.
But a few days later he was back for another visit.  The woman was sitting up in the bed. The tubes had been removed, and the curtains were open. She said to him, "You won't believe what has happened.  The doctors noticed some changes the other day, and called for more x-rays, and they have told me that they can no longer see any sign of a tumor!  I'm going home tomorrow."  The pastor said later, "When I got out to the parking lot, I looked up into the skies and said, 'Don't ever do that to me again!"'
Friends, it was fear of the unexplainable, the mystery surrounding Jesus that led to his death on the cross.  But we know that his death, which seemed like the worst day in the history of humanity, proved to be the greatest gift for all people and for all time because it is God's gift of Eternal life to each one here.  So rather than choosing to live in fear because it is what we are used to, because it is understandable, even predictable, this story in the boat begs us to invite Jesus into the storms of life so that God can turn our fear into grace.
There is a contemporary Christian song that explains what I am trying to say better than I can.  Listen to some of the words.  "Sometimes He calms the storm with a whispered 'Peace, be still'.  He can settle any sea but it doesn't mean He will.  Sometimes He holds us close and lets the wind and waves go wild.  Sometimes He calms the storm.  Other times He calms His child."
Friends, the prevailing thought in this story is that no matter what kind of fears we are faced with, when we know who Jesus is in our lives and invite him to enter into our storms, that God will either calm the storm or calm our fears.  He has called us each by name and we are His.  In the name of the Father and of the Son and of the Holy Spirit.  Amen.
-Julie Schaaf is the Minister at Nazareth Presbyterian in Moore, SC
---
This sermon was published in a book of Lenten Sermons entitled:  More Than Chocolate, Lenten Sermons that Matter.  While it was written as a sermon for Lent in 2018, it's message is appropriate for today.
Reynolds Price, Letter to a Man in a Fire, Simon & Schuster, NY, NY, 1999, 30-31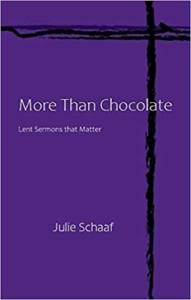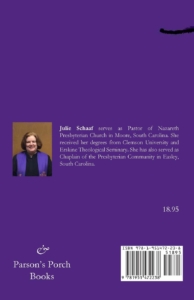 https://media.myworshiptimes22.com/wp-content/uploads/sites/6/2020/05/11142851/book-front-cover-cropped.jpg
264
281
dfoster
http://foothillspresbytery.org/wp-content/uploads/sites/6/2017/01/header_wh.png
dfoster
2020-05-18 01:00:52
2020-05-14 09:32:10
More than Chocolate: Giving Up Fear