by Erin F. Farry, Campus Minister, UKirk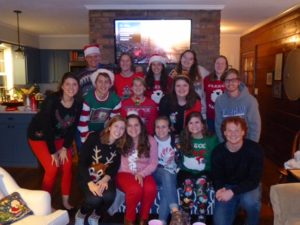 What an exciting year this has been for UKirk Furman! With the largest freshmen class in Furman's history arriving on campus this fall, the leadership team worked incredibly hard to get to know and welcome this freshmen class. After several fun events during orientation week, UKirk Furman welcomed over 26 students to our first Tuesday night gathering of the semester.
Our moderator, Maddy Gentry, a senior education major and member of Westminster of Greenville, says that "It is sad to think that this is my last year as an active member of UKirk Furman, but I was really excited to welcome new freshmen in because I wanted to have a new base of students to pass this special group along to." We have been blessed by a dedicated and strong freshmen class and look forward to the many ways that they will grow and expand the ministry of UKirk Furman.
Throughout this year we have visited several congregations for worship, met weekly to share in fellowship, study, and prayer, and participated in once a month mission opportunities through Presbyterian Disaster Assistance. We are currently counting down the days for Montreat College Conference in January. I am happy to share that we will be taking a group of 24 students to this weeklong conference—three times the number of students that attended last year from Furman! Of this group, 13 of these students are freshmen and for many of them it will be their first time through those sacred gates (despite many of them being members of PC(USA) congregations).
I have been privileged this year to witness the growth of many college students, the growth of our ministry, and the growth of the Kingdom of God. Freshman Victoria Melin of Johns Creek Presbyterian in Georgia, says that "UKirk Furman is a group of unwavering, kind, inclusive, ready, and keen students who want to be apart of something bigger than themselves. For me, being in this campus ministry has truly strengthen my faith in ways I didn't know possible while I was beginning a new season of life, and I am so overjoyed to share my highs and lows of the day with my new friends in Christ."
I am humbled by the opportunity to serve as the Campus Minister to UKirk Furman and to work with our many partners throughout this presbytery. We appreciate your continued prayers, gifts and donations of snacks, and for sharing members of your congregation to serve on our support team! Thank you for your care, passion, and support of campus ministry. Together we are loving, equipping, and growing the Church.
~Erin Farry
https://media.myworshiptimes22.com/wp-content/uploads/sites/6/2016/12/20135356/ukirk201685x85.jpg
85
85
apaschal
http://foothillspresbytery.org/wp-content/uploads/sites/6/2017/01/header_wh.png
apaschal
2016-12-16 10:50:56
2018-07-02 13:30:13
Many Thanks from UKirk Furman