It Still Takes a Village: Thoughts from a Solo Pastor on Virtual Worship
by Rev. Audrey Reese- Pastor at Westminster Presbyterian Church in Westminster South Carolina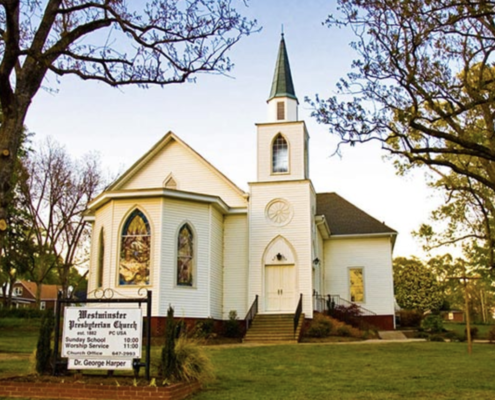 On Friday evening, March 13th, around 7:30, it became official: Session approved the suspension of public gatherings and worship and instead approved offering virtual worship via Facebook Live. When I called Debbie Foster to let her know, I could no longer keep the tears at bay. I left a tearful, shaky voice voicemail, that Westminster Pres, Westminster was effectively closing our doors. I knew the decision was the right one, but oh how it hurt.
After taking a breath to grieve this adjustment, I got into planning mode on Saturday. My choir director agreed to come in and wanted to offer "as much of an authentic experience as possible." My husband agreed to do our Lent Wreath reading. We agreed that we would offer the following order of worship:
Welcome and Announcements
Prelude (what would have been the first hymn)
Lent Wreath with song
Prayer of Invocation
Call to confession and prayer of confession
Pardon of forgiveness and virtual passing of the peace
Prayer for Illumination
Scripture reading and sermon
Prayers of the People and the Lord's Prayer
Apostles Creed and Gloria Patri
Offering call and Doxology (explaining how to give while we can't gather)
Prayer of Dedication
Closing hymn (instrumental)
Benediction
Facebook Live is something new to this older millennial and very new to our older congregation. I spent most of Saturday and Sunday morning helping my church members figure out how to view our live stream with us on Sunday morning during the standard 11:00 hour.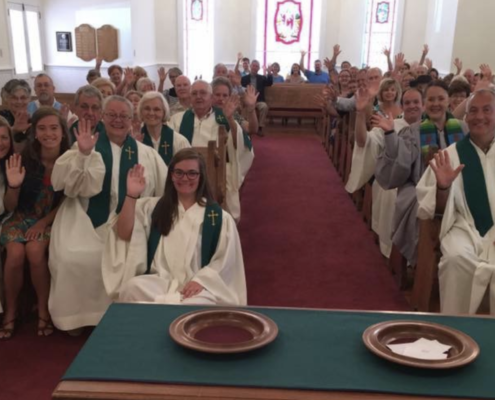 My choir director showed up early on Sunday, and we walked down to the sanctuary together. Entering that space at 10:30 am with one other person felt, for lack of a better word, heavy. As I was entering the building, I received a text from my non-church-going uncle applauding me for our decision and offering words of hope. About ten minutes later my husband came in, and we got to work setting up the phone, making sure we could indeed go "live" using just my data (because our church building doesn't have wifi) and occasionally glancing out at the empty parking lot. A few minutes before 11, we started our live stream and I virtually "greeted" our folks who hopped on.
We ended up offering a 40-minute service. It felt awkward. I couldn't hear laughter at the few jokes I made, I couldn't hear the other voices saying the Lord's Prayer or the Apostles Creed. My attempt at singing was terrible, but at the end of the service, I was grateful and relieved that we had done what I didn't think was possible.
The most important thing that I have learned since Friday is that regardless of the size of the congregation, it is imperative to have a team. That team of three was not enough, and we are adding at least one more person to help lead hymns this week. We will keep our physical distance, but are working out the kinks. The audio wasn't clear, so we are making adjustments such as I will preside from behind the Communion Table rather than the Pulpit. We are asking one of our young adults to come and run slides for the prayer of confession and hymns. If at all possible, having a tech-savvy communications person is critical. We don't have this, so I and my choir director are spending time on webinars and in Zoom meetings to learn as much as we can. Virtual worship/church has added hours to my work week. I feel compelled to call/text/post every single member of my congregation, but this just isn't possible. As such, I'm leaning on Session to do some of the practical pieces of normal ministry that I would typically handle, such as making those calls/texts/emails to folks.  We have divided our church membership into lists for each Elder to connect with. We are mailing bulletins and sermon scripts to those without a computer or internet capabilities. We are grocery shopping for our elderly members. And I do mean we, not me. While I am learning as much as I can about virtual worship, I am relying on our Session to do as much virtual visiting as possible. And I'm taking lots of walks and naps and time to snuggle with my dogs. Self-care of our pastors and staff is just as important as pastoral care for our members.
Being virtual is MUCH more work than I ever imagined, but in the end,  I am so grateful we are working through this. As of this writing, our video has been viewed 765 times! This means that a viewer watched more than 3 seconds. It reached 1,131 people without even being boosted. It was shared 9 times. Thinking about radical ways to widen our circle during this time of physical distancing has provided an amazing opportunity for us. In some ways, we are more connected than we ever were before. This physical distancing has pushed us into the 21st century of live streaming, and I believe it will benefit our congregation immensely. While I recognize that some small churches fear that closing doors now might mean they don't reopen, this is not the case for Westminster. I am confident that our folks will continue to tithe through bank drafts and mailing in checks. I am confident that we will come out of this stronger and more connected. While there are tears now, I do have full faith that joy will come in the morning.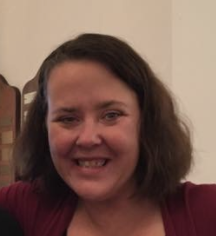 -Rev. Audrey Reese
Pastor at Westminster Presbyterian Church in Westminster South Carolina