God is truly amazing!
By Michael Sullivan
I want to share the information about the interviews surrounding the "reformed racist" and the donation he or she made.
We all come from a past that may not be colored with the beauty of the Lord. Meaning we've "all sinned and come short of the glory of God." We are thankful for our new brothers and sisters who have allowed the true Gospel of Christ to have pre-eminence in their life.
So for those of us who really understand the true meaning behind this magnanimous gesture; pray for this individual, who even now prefers to remain anonymous because they are still suffering with how to lead their peers to Christ so the redemption work of the Spirit can work in their lives also!
I am convinced that this confession is real and would love to share with them in their next challenge of oneness with their new Faith!
The donation and/or donations are wonderful and we are humbled to be the recipients of them. They will be used to further the Youth Outreach Ministry, and shore-up  any facilities that need attention.
As with any monetary gift, we are thankful for the giver.
We pray that they are blessed for their hearts desire to make a difference and for the leading of the Holy Spirit in their life.
Links to the interviews and some of the posting to others can be found at the end of the news post.
God bless you,
Rev. Michael Sullivan
Nicholtown Presbyterian Church
God is always surprising

by The Rev. Beverly J. Kelly
God is always surprising those of us on the "battle field", working to get the tasks of church work done!   Imagine the looks on our faces and the renewed spirit of our hearts  when the Nicholtown session read the letter of an anonymous donor confessing they were a redeemed racist and to show their change of heart, enclosed in the letter two checks each of one thousand dollars!  It was a double whammy!  God changed a heart and brought new life to a struggling, faithful congregation.
We had to share that story.  We are grateful to the Greenville News reporter Tesalon Felicien for writing a story that made front page news and created a buzz throughout the upstate media.
Thanks be to God, 'church work' is never done. God's redeeming grace is everlasting.  There is always more!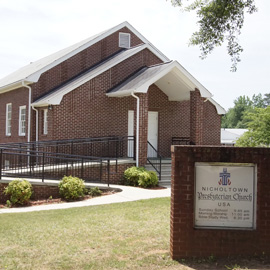 At the next Nicholtown session meeting there was a letter addressed to the Moderator who before opening it, jokingly said, "Oh, another check!"  This letter was signed with a check enclosed.  The donor read our story in the news and wanted to support the mission of our church to feed children. We are ever grateful for hearts changed and generous hearts open to receive the power of the Holy Spirit.  Nicholtown and Fourth Presbyterian Churches continue to work together to provide a nutritious breakfast for children attending Sunday School and worship.  We cannot imagine what God has in store for everyone touched by this story that began, "I was a terrible racist…now I am changed".  I am confident 'there is more!'
Thankful,
The Rev. Beverly J. Kelly,
Moderator Nicholtown Presbyterian Church
---
http://www.cnn.com/2017/06/01/us/reformed-racist-church-letter-donation-trnd/index.html
Reformed "terrible racist" sends apology letter, donation to Upstate church
http://atlantablackstar.com/2017/06/02/reformed-racist-gives-black-church-donation-apology-letter/