By Gracelyn and Ali Latham
Two sisters share how the summer mission opportunities at Easley Presbyterian created memories for a lifetime.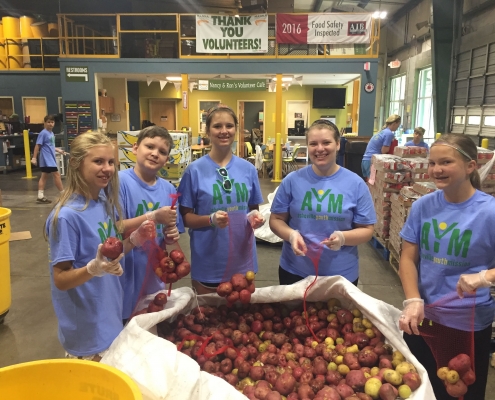 Middle School Mission Ministry:
Going to Asheville Youth Missions is an empowering experience that middle schoolers at Easley Presbyterian Church have the opportunity to go through for three years in a row.  Unfortunately, this past year was my last attending AYM, seeing that I am in my first year of high school now, but the memories I have made will stay with me forever.  While in Asheville, we are tasked with many different projects that help the less fortunate in and around the area.  During the week, my group went to 12 Baskets Cafe, the Veteran's Restoration Quarters, Vance Peace Elementary School Garden, and the Homeward Bound Donation Center.
The first day at Vance Peace Elementary, we were able to go to their garden and help spread mulch and pull weeds.  Although it was very sunny and hot, we all were inspired by the children that attend the school and were able to meet one of them, and she told us all about how much she loved going to a school that has a garden they are able to tend to and learn from.  The second half of the day we went to the Homeward Bound Donation Center.  This is a place where anyone in the community can donate household items, anything from microwaves and kitchen knives to couches and desk chairs.  These items will then be inventoried and given out to people who just recently bought a place to live, but still don't have enough money to be able to afford simple things that are needed to live abundantly.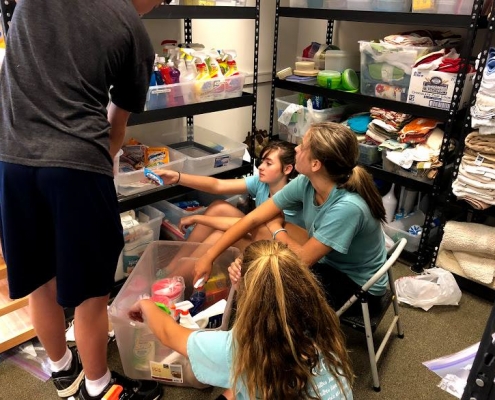 The second day we went to 12 Baskets Cafe, a restaurant that receives donated food from local restaurants and cooks it new the next day and gives it out for free.  While there, my group was able to talk to people who explained their life stories to us and gave us advice on how to become better people and better Christians.  Personally, I saw God in every single one of those people that I talked to because I was able to hear their own unique life experiences and how God helped them through all the bad times and how He was there for them through all the good.  On the last day, we went to the Veterans' Restoration Quarters, or VRQ.  The VRQ is a place to keep veterans from living on the streets.  My group went to the one that housed only male veterans, and we were able to eat lunch with them and sort out clothes that were donated to the VRQ.
Overall, Asheville Youth Mission 2018 (insert link) was an amazing trip that I was lucky enough to experience.  God was with every person on that trip, along with everyone we were able to meet and talk to.
---
Senior High Mission Ministry:
Getting to go to New Mexico for the mission trip was an incredibly opportunity that I will never forget. God truly led me to see so many amazing things and new experiences.
While in New Mexico on the Navajo Indian Reservations, my fellow youth members and I got to experience a new culture, worship God, and touch the lives of the natives that lived there. We got to meet so many people and had such deep and meaningful conversations with the locals who were so open to us and invited us into their homes and taught us how they live. It was a wonderful experience because not only did we learn about their way of life, but we got to tell them all about our lives too. They asked about our church and community and loved to hear everything we had to say about ourselves.
During our week in the hot deserts of New Mexico, we got to go to several different houses around the place we were staying and help out so many families. The physical work we did included painting, digging holes and trenches, roofing, cleaning and so much more.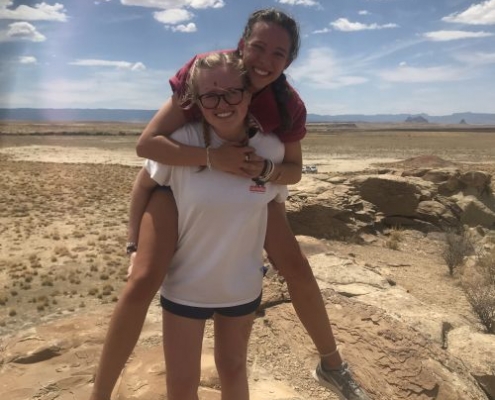 Each mission trip I have been on has touched me in different ways. Also, each mission trip helps me to grow closer to God and the members of my youth group. I never would have expected how close people can get until I went on a trip with Easley Presbyterian Church. I have been going there my whole life and have met some of my best friends there and still, we all grow closer each trip we take.
EPC is definitely my second home and we take that with us everywhere we go. This summer we took our love and fellowship to Navajo, New Mexico and spread our love to so many others!
Gracelyn is a freshman at Easley High School
Ali is a senior at Easley High School
https://media.myworshiptimes22.com/wp-content/uploads/sites/6/2018/09/20135252/AYM2-85x85.jpg
85
85
dfoster
http://foothillspresbytery.org/wp-content/uploads/sites/6/2017/01/header_wh.png
dfoster
2018-09-18 12:19:43
2018-10-11 10:41:08
Forever Memories