Anderson woman tells of how God helped her, her husband through cancer.
By Charmaine Smith
ANDERSON, S.C. — Jane Gray Suggs's face beams as she shows off the picture of her late husband, Forest DeWitt Suggs, Jr.
It is a picture that holds a favorite memory. That's because it is a memory that almost did not happen.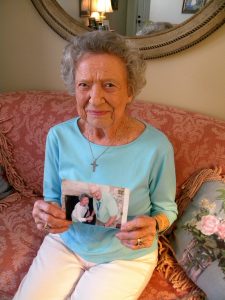 In the photo, Forest's tall, lean body is bent over and his hand is stretched out to take his wife's hand. Just before the photo was taken, Forest made the winding climb down to the entrance of the tomb, believed to be Jesus's resting place after he was crucified on the cross. And at that very moment, they were standing in the tomb's doorway.
And they both are smiling for the camera.
To Ms. Jane Gray, the picture is proof of a miracle. Because just four years earlier, her husband was told that a cancer was taking over his body and there was nothing else that doctors could do.
"I think those miracles are everywhere," Ms. Jane Gray said. "We are just too busy, sometimes, to see them."
A member of First Presbyterian Church in Anderson, S.C., Ms. Jane Gray is an 84-year-old retired math teacher, whose father and husband worked in textiles and then accounting. She and her husband, who were both born in South Carolina, raised three sons together. And Ms. Jane Gray said she cannot "remember a time" when she did not have faith in Christ.
It is what helped them both through careers, raising a family, their marriage and two cancer diagnoses. When she tells the story now, Ms. Jane Gray speaks of how faith gave them strength, and is still her guide today.
In 2014, just 11 days short of their 60th wedding anniversary, Mr. Forest died at the age of 86. He lived nearly 10 years after doctors at Duke University's hospital told he and Ms. Jane Gray that the metastatic melanoma cancer, which had invaded his lungs and his brain, was taking over and they were out of options to fight it.
This particular chapter in the couple's life is one example, Ms. Jane Gray said, of how she has seen God work in her life.
Because in the moment that a doctor told them the dreaded news, she remembers feeling compelled to speak up.
"I remember walking into that room, and there were a lot of doctors there, looking at their feet," Ms. Jane Gray said. "The doctor
said, 'Mr. Suggs, there is nothing left that we can do.' And all of a sudden, I stood up and said, 'Do something. Send us somewhere.' The words were out before I even realized what I had said."
But those words saved her beloved husband's life.
Her words led to further discussion with the doctor, and a long-shot chance at sending Mr. Forest to another team of doctors – at the Dana-Farber Cancer Institute, a teaching affiliate of Harvard University's Medical School.
There, at the Boston-based hospital, Mr. Forest was accepted into a medical treatment trial. He was the last patient to be accepted into the experimental treatment, Ms. Jane Gray said.
"When he got the infusions, he could see the tumors shrink and then disappear," Ms. Jane Gray said. "It was amazing. There really were miracles everywhere we turned. And in 2006, when I was diagnosed with cancer, I would not have made it through without God holding my hand through it."
Ms. Jane Gray said that God, and the community that God has surrounded her with has helped her throughout her life – especially the tough moments.
She said she has learned to pray differently and to place her trust in God as she watched her husband battle cancer, and then she also struggled with the disease. It has not been easy, she admitted, to let go.
But it was that faith, she said, that helped her through eventually seeing her husband's health fail him.
In the years that followed, as Ms. Jane Gray adjusted to living alone, she began to consider downsizing. She said she went with her friend and fellow church member, Patsy Pickens, when Ms. Patsy signed up to live in a local independent living facility.
That visit prompted Ms. Jane Gray to begin making the same decision, she said.
She said she knew she would need to let go of the home that she and her husband had built 12 years earlier.
"When you become isolated, you lose a lot of ground," Ms. Jane Gray said. "I loved our house. But those are just things. And I need the energy I get from being around other people. The Holy Spirit has been, and still is, the head of my life. And God helped me to see that this was the next step for me."
So in February 2017, she moved from her home to a small one-room cottage at an independent living facility in Anderson. There are several members of her church family who are her neighbors at the home.
And Ms. Jane Gray, a very social person, said she is not alone here. Every day, she is able to share meals with other friends.
"For us Presbyterians, we believe in predestination. And what does that mean? Well, just look back on your life and you will see how God has worked in your life," Ms. Jane Gray said. "God has been very busy in my life. I have had to put my trust in the Holy Spirit, and I have learned to say, 'If it be thy holy will…'"
Charmaine Smith-Miles is a pastoral intern at First Presbyterian Church in Anderson, S.C., and is in the process of seeking ordination within the Presbyterian Church (USA). She is a new mother, and also on the journey of answering a call to ministry, after spending 16 years as a journalist for a newspaper in her hometown of Anderson. A native of Tennessee, she loves sharing stories, especially the Gospel story and the stories we carry within ourselves.
This article was first published in the Presbyterian Outlook on August 8, 2017.
https://media.myworshiptimes22.com/wp-content/uploads/sites/6/2017/12/20135359/Jane-Gray85x85.jpg
85
85
dfoster
http://foothillspresbytery.org/wp-content/uploads/sites/6/2017/01/header_wh.png
dfoster
2017-12-04 05:00:42
2018-07-02 13:15:39
Finding Miracles