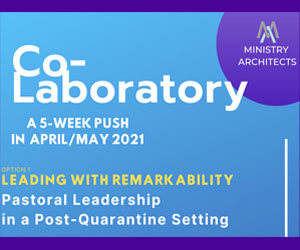 Leading with Remarkability Cohorts
Foothills Presbytery is offering a 5-week Cohort for pastors and educators. Each cohort of 8-10 participants will meet for 5 weeks during April-May to explore how to lead in a post-quarantine ministry setting. Cohort will determine best day and time for meetings. The experience will also include 1:1 coaching with Ministry Architects. Each participant will come away with individualized plan based on their ministry setting. The plans may include virtual, in-person, or hybrid worship as well as educational components.
The total cost of this Continuing Education Cohort is $430 per person. Recognizing the financial burdens that some churches are facing at this time, Foothills Presbytery is pleased to offer investment option pricing for those interested.
Green Option– Name your price! Does your church have extra money for continuing education? Any amount above $430 will help support someone else.
Blue Option– $430 (This option covers the full price of the program)
Red Option– $250 (This option provides a discount for those who may not have as much in their 2021 continuing education budget)
Purple Option– $50 (This option provides a deep discount for churches that are facing significant financial burdens)
Date/Time
Date(s) - Apr 18, 2021 until May 31 2021
All Day