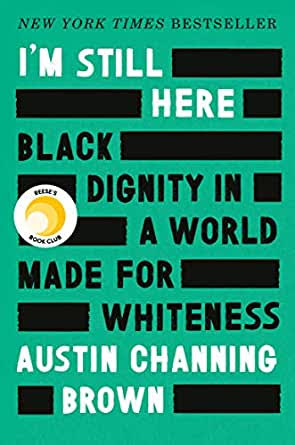 I'm Still Here Book Study
Book Discussion for Pastors & Lay Leaders via Zoom
Led by Marjorie Boafo Appiah & Rev. Christi O. Brown
Wednesday October 7, from 12-1:15 pm
Marjy is the author of Same Elephants: a book about friendship, diversity and the importance of representation.
Christi is member-at-large in Foothills and a Professional & Personal Development Life Coach with Authentic Leadership Coaching LLC.
Read this book and join the Zoom discussion with an open mind, ready to listen, learn and share in a fruitful discussion. We do not promise that the discussion will be easy, but we do promise that it will be respectful and help broaden your learning around race relations.
Austin Channing Brown's first encounter with a racialized America came at age seven, when she discovered her parents named her Austin to deceive future employers into thinking she was a white man. Growing up in majority-white schools and churches, Austin writes, "I had to learn what it means to love blackness," a journey that led to a lifetime spent navigating America's racial divide as a writer, speaker, and expert helping organizations practice genuine inclusion.
In a time when nearly every institution (schools, churches, universities, businesses) claims to value diversity in its mission statement, Austin writes in breathtaking detail about her journey to self-worth and the pitfalls that kill our attempts at racial justice. Her stories bear witness to the complexity of America's social fabric—from Black Cleveland neighborhoods to private schools in the middle-class suburbs, from prison walls to the boardrooms at majority-white organizations.
For readers who have engaged with America's legacy on race through the writing of Ta-Nehisi Coates and Michael Eric Dyson, I'm Still Here is an illuminating look at how white, middle-class, Evangelicalism has participated in an era of rising racial hostility, inviting the reader to confront apathy, recognize God's ongoing work in the world, and discover how blackness—if we let it—can save us all.
---
Date/Time
Date(s) - Oct 7, 2020 until Oct 7 2020
12:00 pm - 1:15 pm