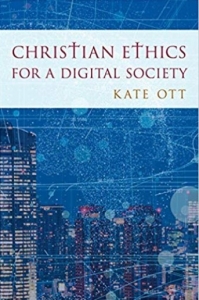 Book Review
by Rev. TJ Remaley (Associate Pastor St. Giles) 
At first glance, there seem to be two competing narratives about the prevalence of digital technologies in our society. One perspective holds that the incredible advances and benefits offered by modern technologies are evidence that such products are inherently "good" for humanity. The other perspective, citing troubling statistics of increased isolation and adverse health risks, render such technologies as "bad."
The reality, as with virtually everything else in postmodern society, falls somewhere between the either/or binary these two perspectives would suggest. Suffice it to say that modern technologies – like all technological innovations that have come before – can be used both for the wellbeing of society and for evil, destructive purposes. (For just one example, the same social media product that helped to fuel a democratic uprising in several oppressed nations also provided the platform for outside forces to influence democratic elections in our own nation!).
In what ways have digital technologies improved the health and wellbeing of society? How has the power of technology been used to foster the peace and justice of God's Kingdom? In what ways have digital technologies led to toxic habits and forces individually and societally? How have we as technological consumers been complicit – perhaps even unknowingly – in those forces? For the Christian community, most studies of the use of technologies to this point have arisen from one of the two aforementioned binary perspectives; the literary landscape is ripe for a more thoughtful, nuanced approach. To adequately navigate the complexities of the modern world, we must first be aware of, and have a basic understanding of, the broader ethical questions that arise from them. Naturally, this can only be accomplished through obtaining a working knowledge of the subject.
Enter Kate Ott's new book, Christian Ethics for a Digital Society. As a theological ethicist and seminary professor, Ott has spent much of her career focused on matters of human sexuality. Through her newest scholarly work on technology, however, she argues that for Christians to utilize technologies in an ethical, life-giving manner, they must first become digitally literate. Ott practices what she preaches here, beginning the text with an acknowledgement of her own limited understandings before demonstrating her efforts to become more digitally literate alongside her research of some of the most compelling ethical questions of our time.
The text examines several important topics, each through her cogent ethical voice: the use of algorithms and predictive analytics, the creation of a digital identity, the rise of ethical hacking, the presence of archives as limitless memory, and technology's often unseen impacts on ecological and social issues. Her detailed review of these topics – each paired with appropriate theological and biblical perspectives, and coupled with a "ripped from the headlines" excursus –  offer a wonderful contribution to the field of Christian Ethics. Each of these topics includes plenty of fodder that would serve as a foundation to delve even deeper. Fortunately, to encourage such study, Ott offers extensive bibliographical endnotes.
It will be no secret to most readers of this review that I am thought of as being digitally literate and technologically aware. My thorough engagement with technology has undoubtedly become a part of my identity: from my childhood using the earliest full-color Macs, to my time as a technology educator, to my current pastoral ministry that includes a passion for the creative use of digital technologies in furthering the mission of the church. I am also a self-proclaimed news junkie, particularly around topics of modern technologies and their impacts on the world. I nevertheless encountered numerous theo-ethical considerations in Ott's research to which I had never given any real thought. That is to say: technological power-users and digital novices alike will be challenged by this text, and readers of all levels of technological knowledge and ability will discover plenty of food for thought. Christian Ethics for a Digital Society is a timely contribution to the field of Christian Ethics, and a wonderful resource for anyone wishing to more deeply examine the ethical ramifications of their technological life.
Ott, Kate M. Christian Ethics for a Digital Society. Lanham: Rowman & Littlefield, 2019.
https://media.myworshiptimes22.com/wp-content/uploads/sites/6/2019/02/20135028/ott-book-cover80x80.jpg
80
80
dfoster
http://foothillspresbytery.org/wp-content/uploads/sites/6/2017/01/header_wh.png
dfoster
2019-02-27 16:33:42
2019-07-16 16:04:09
Christian Ethics for a Digital Society