"Out of Chaos, Hope."
August 1, 2020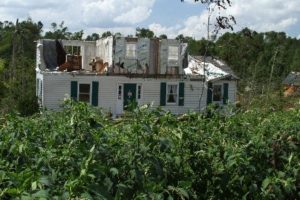 The devastating EF3 tornado that struck the Seneca area last April 13th is long gone from the radar, literally and figuratively. There are newer stories for the media to cover and people not directly impacted have likewise shifted their energy and focus elsewhere, as is normal. It is something in the rear view mirror. However, unlike Camelot, where leaves are blown away neatly at night, Seneca and many of its residents continue to cleanup, recover and try to get their lives back in order, or at least cling to some hope that order can and will eventually come out of the chaos. It is and will remain a long- term recovery challenge for the city and so many individuals and families.
Piles of debris still wait to be picked up. Sadly, some homes that were hit the hardest now lie abandoned, their exposed innards serving as stark reminders of what happened, even as the weeds grow toward claiming the remains for themselves. Much of the initial yard debris clean-up has been accomplished, although our work crew responded recently, working with Lutheran Services, to help with a remaining need that surfaced.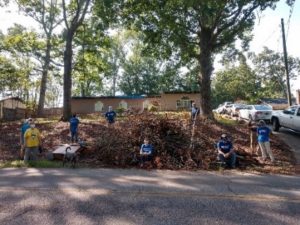 However, there are signs of hope and recovery. New roofs and rebuilding have begun. One woman who is a Mother Theresa like person in the low-income Utica area lost her own home totally to the tornado. Yet every day she remains in that area, giving out food and helping others in need. A small group celebrated a ground-breaking the other day for her new home, to be built on the cleared site of the old one because she wants to continue to live in and serve this area of town.
Immediately after the tornado state and local agencies, from governmental to non-profits, including many faith-based organizations, were formed into the Oconee County Long Term Recovery Group (OCLTRG). This group's goal has not only been the short-term immediate needs but working to see that people needing help do not fall into the gaps in the long haul of recovery. As a member of that OCLTRG, it has been encouraging to see so many people in this group communicating and working together. The scope of long-term recovery still seems staggering but progress is being made.
In many cases homeowners were wealthy enough and/or had sufficient insurance that they are on their way to rebuilding or re-establishing themselves. Many were not as fortunate. Local organizations are seeking to identify those people and assist as best they can. One of those is Habitat for Humanity. Although their focus has always been on building new homes they have approved and are committed to helping repair and rebuild some tornado damaged homes. We anticipate some from our church will join in Habitat's rebuilding as that begins. A Construction Committee of the OCLTRG, with one member from Townville Presbyterian Church, is evaluating and working to help those who need help rebuilding.
Because of working with tornado damage in Utica, some of our group also became involved in a COVID necessitated summer program of delivering weekly school meals to the homes of families in the area.
Presbyterian Disaster Assistance, who has helped in this recovery, has as its motto, "Out of Chaos, Hope." The work in Seneca is far from finished, but that motto is what is happening and remains to happen.
Peace!
Richard & Susan Caldwell
On Behalf of the Work Crew
https://media.myworshiptimes22.com/wp-content/uploads/sites/6/2020/08/06143107/seneca-work-crew.jpg
334
445
dfoster
http://foothillspresbytery.org/wp-content/uploads/sites/6/2017/01/header_wh.png
dfoster
2020-08-06 19:54:52
2020-08-06 19:54:52
Seneca Tornado Recovery – A Brief Update