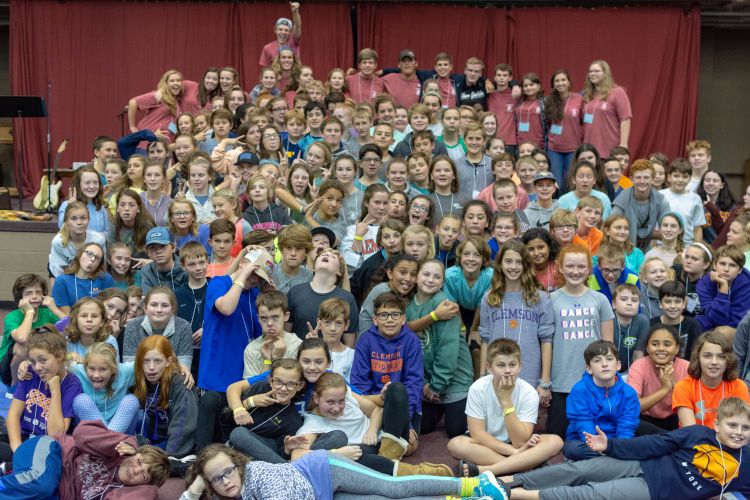 I am Lucas, and this is my second year on the Presbytery Youth Council. I have been to Bonclarken five times. The first three with my church, and the other two as a PYC leader. On our planning retreat, we talked about issues that we dealt with when we were in middle school and eventually came up with the theme, "Perfectly Imperfect." Our keynoter shared her vision for the keynotes talking about how we are all made imperfectly for our own purpose by God. This year [due to Hurricane Florence] we really didn't have a lot of planning time. We had one meeting where every team had to get all their planning done. I was placed on the Recreation team, and we wanted to design a small group rec event with a variety of games which gave everyone opportunities to get involved and have fun. We also tried to pick games that require teamwork. I think the keynotes were very relevant to many people and connected with them. What was the most powerful thing, to me, was the worship service on Sunday morning.
Every church group had their youth group involved in one aspect of leading worship. I believe this allowed a lot of the youth to really think about, and reflect on, the things they heard throughout the weekend. They wrote some amazing Prayers, a Call to Worship, Call to our Offering, etc. It really showed that they were hearing, and what the PYC was hoping they would hear. Thank you all who support PYC: All our churches, ministers, and youth leaders are appreciated because none of our work is possible without their support.
Lucas Conti
Senior at Ft. Inn Presbyterian
---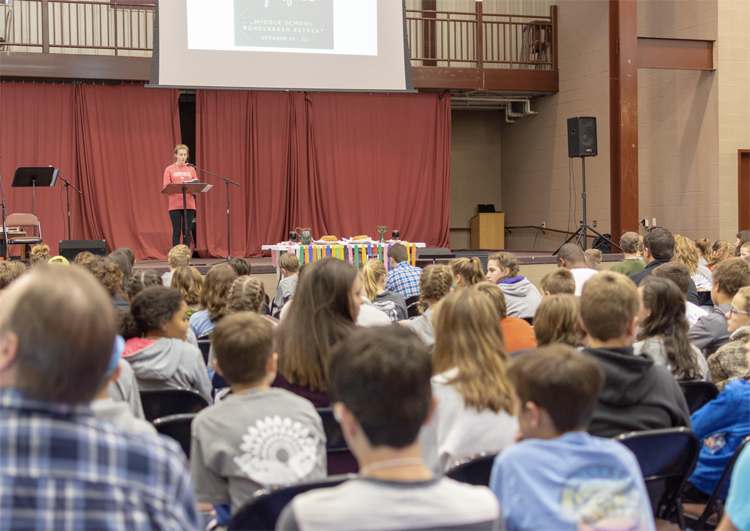 My name is Ella Casto-Waters, and I'm an active member of First Presbyterian Church Greer. I'm also serving my first term on the Presbyterian Youth Council. I've attended the Foothills Presbytery Middle School Retreat at Bonclarken three times: twice as a youth and once as a PYC leader. Each time I've been to Bonclarken I've had a great experience that has helped me grow in my faith. The PYC started planning this retreat back in August at our leadership retreat. We gathered and discussed our middle school experiences and what themes represent those experiences. Together, we decided on "Perfectly Imperfect."Lauren Slingerland was the keynoter for the weekend, and we were fortunate enough to have her at our planning meeting. Lauren thoughtfully contributed to our discussions and brilliantly turned our ideas into worship services. At our last meeting, Lauren worked with us to make props and visual aids for the different keynotes. Everything came together beautiful. Every aspect of the retreat was well thought-out and put together. The small group manual was extremely well-written and included activities that were directly related to the scriptures of the weekend. I was impressed by how natural the connection between keynote, small group, and recreation seemed. My favorite part of the retreat was watching the youth lead worship on Sunday morning. It was such a joy to listen to the kids' interpretations of the theme and what they were taking away from the weekend. Retreats like this past one at Bonclarken are made possible because of the support from Foothills Presbytery. So, thank you. To the churches and individuals that support the ministry of the Presbyterian Youth Council: thank you. Your commitment to our organization means so much to us and to the youth of this Presbytery.
Ella is a Sophomore at Greer High school
https://media.myworshiptimes22.com/wp-content/uploads/sites/6/2018/11/20135137/PYCMSRetreat-2-80x80.jpg
80
80
dfoster
http://foothillspresbytery.org/wp-content/uploads/sites/6/2017/01/header_wh.png
dfoster
2018-11-20 17:20:10
2019-02-19 13:12:06
Reflections Bonclarken 2018