"

Be Not Afraid and Don't Be a Dummy

"
Psalm 46 John 10:11-15
Sermon delivered by the Rev. Dr. David J. Bailey March 15, 2020
My 65th birthday arrived this week in cataclysmic fashion, not just for myself but for the whole world. I never expected the world to react so violently to my becoming a senior citizen, but it's a funny place. For me personally, I had caught the flu a couple of days earlier which caused me to miss last Sunday, only the second Sunday I've missed due to illness in 32 years. I'm thankful to Noelle for covering for me while I was out, and to Dr. Woodall for responding quickly to start me on Tamiflu. I didn't feel like concentrating on anything while I was sick, so the TV was on a lot. It might have been that I was somewhat delirious with fever, but I thought I heard a lot of weird stuff. There was stuff about a global pandemic and people stranded on cruise ships, of all places, that were not being allowed to dock due to having infected people on board. Surely in the age of modern medicine it is not true that there is a pandemic abroad for which there is no vaccine and no cure, right?
There was stuff about the stock market going down, down, down, and then down some more. Surely after two stock market crashes, sophisticated 21st century American investors have learned that panic is temporary, crises will pass, the center will hold. Right?
There was news about colleges and universities shutting down, students summoned home from study abroad experiences, campaign rallies being called off, cities forbidding gatherings of more than 1000 people, Italy shutting down completely, and travel from Europe being banned for a month. And then basketball got shut down. March Madness has been displaced by coronavirus. Broadway Theaters closed for a month. No Masters. Enough is enough! I apologize for turning 65! Now can the world please get back to normal?
And, of course, the answer is no, or at least not yet. We can't will the coronavirus to disappear today any more than I could will the flu to disappear when I first got it. A commercial has it right when it says, "The only way is through." Some things you have to live through, have to endure, have to keep fighting to the other side. We don't know how widespread it will become, whether it will be slowed by warm weather, or whether our healthcare facilities and professionals will be able to keep up with it. We don't know whether our local schools will eventually be closed or whether churches will be asked to stop holding services. We don't know what the whole economic fall out will be. We don't know if we will be dealing with this for one month or two years or on an ongoing basis.
So the question is how, as people of faith, we plan to live our lives during this time of uncertainty and fear. This is where the rubber meets the road in the Christian life. Are we going to be able to keep our heads when all those about us are losing theirs? Are we going to be focused so thoroughly on our own welfare and needs that we lose sight of the welfare and needs of others? Fear makes us hunker down to protect ourselves and keep others out. This is not life in the kingdom of God. We all know that but we need to be reminded of it. Some of the most oft repeated words in the Bible are, "Do not be afraid," and they are usually said to human beings by God, angels, or Jesus. Balancing that assurance, though is the warning which is never given by God in so many words but is implied throughout the Bible: "But don't be dummies." "Don't be afraid, but don't be dummies." God doesn't want us to go through life afraid that something might happen to us, but God doesn't intend us to take that to mean playing Russian Roulette with a pistol is fine, or racing through a neighborhood at 95 mph.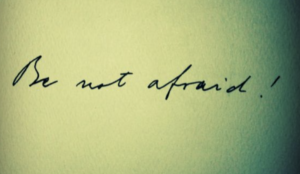 Don't be afraid. "Lo, I am with you always, even to the end of the age," Jesus promises. "Yea, though I walk through the valley of the shadow of death, I will fear no evil, for Thou art with me." "Nothing in life or in death can ever separate us from the love of God which is in Christ Jesus our Lord." "When through the deep waters I call thee to go, the rivers of sorrow shall not overflow; for I will be near thee, thy troubles to bless, and sanctify to thee thy deepest distress." "I am the resurrection and the life. Those who believe in me, even though they die, will live, and everyone who lives and believes in me will never die." When you trust that Jesus is with you always and is preparing a place for you in his Father's house for when you die, then there is no need to live this life fearfully. Be strong and of good courage.
On the other hand, don't be dummies. Wash your hands. Use the sanitizer. Don't go out if you are sick. Don't shake hands for a while – it's awkward but we can find other ways to greet each other. If you are older and have some general health conditions you might want to stay in as much as possible until the worst of this passes. I'm thinking it highly likely that we will need to cancel all church activities, perhaps even over Easter. If so, it will be okay. If we end up having to cancel services and activities we will work to get more resources online for you. If you are not currently on our church email distribution list, I urge you to call the office tomorrow and ask Sandy to add you to it. This is the most certain way to receive the latest information about church activities. The Session will meet tomorrow night, and I will definitely be sending an email out Tuesday about the results and plans.
Now I want to spend a few minutes jumping way forward to what we need to be learning from this experience, because you always need to learn from experiences. A story about myself first. When our son decided to join the Navy I was caught off guard by that. I've done some soul searching this week about why that is and I've tried to do it in humility. I talk about Christians living between these two flags, the American and the Christian. I confess today that my prejudiced belief has been that American Christians tend to place higher priority on the American flag than the Christian, and I have attempted to bring people more to the center which has meant de-emphasizing patriotism. This gets me in hot water from time to time and helps explain my reaction to John joining the Navy.
God frequently teaches us in simple ways, and one of my learnings came through a t-shirt John wore. It said, "The sheep live as though there will never be a day when the wolf comes. The sheepdog lives for that day." Lots of light bulbs came on for me. Yes, I'm one of the sheep who live privileged, protected lives, taking for granted that things will always be this way. And yes, this is who John is – a protector. One who is willing to do what is needed to protect his family, his friends, his country, even if we are ungrateful or unaware. So I have watched with pride as he has worked daily to learn skills and develop instincts which one hopes he will never have to use, so that he will be ready and able on the day a wolf comes to threaten what he holds dear. I'm grateful for all those who give themselves to this task, and I'd like to know that people like them are making decisions about the best ways to serve and protect. If you shut the sheepdog up in the house or a pen and think you can do without them you will learn the truth.
The sheep also live as though there will never be a day when a pandemic comes among them. Americans have heard about the new coronavirus since December. We saw the effects in Asia, then Europe. Yet we were seemingly no more prepared on the day it arrived on our shores than when we first heard about it. The thing is, there were sheepdogs who were living for this day – who had given their lives to studying pandemics and epidemics, and coronaviruses and transmission patterns and ways to reduce its effects. But instead of setting them loose front and center to do what they had trained to do, we kept them on the sidelines and operated out of the wishful thinking that it might just pass us by. My undervaluing of service to country is equaled by others' undervaluing of the value of science and its service to humanity. Do not be afraid. But don't be dummies either.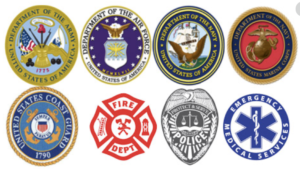 Doctors and nurses and respiratory therapists and aides and EMTs and police and national guards are and will be putting their lives on the line for the sake of others in the battle against coronavirus. We owe them our gratitude and our prayers. We also owe them our diligence in making every effort not to add to their burden by spreading the disease unnecessarily. Don't be afraid, but don't be dummies.
I'm sure you know the tale about the man who watched the flood waters rise around his house and prayed that God would save him. As he prayed on his porch a rowboat came by and offered to row him to safety. The man said no thanks, God was going to save him. The water continued to rise and he went to the second story and opened the window and continued to pray. A motorboat came by and offered to take him to safety. The man said no thanks, God was going to save him. The waters continued to rise and he found himself on the roof praying for God to save him. A helicopter came by and lowered a ladder to him but he said no thanks, God was going to save him. He ended up drowning, and when he got to heaven he asked God why he didn't answer his prayers. God said, "I sent two boats and a helicopter, what more did you want?" Just because we didn't think the soldier, the epidemiologist, the climate change scientist, or the economist, was the answer we wanted from God doesn't mean it wasn't.
In our closing hymn today we are going to sing these words: "From the fears that long have bound us free our hearts to faith and praise. Grant us wisdom, grant us courage, for the living of these days, for the living of these days." Free from fear – do not be afraid – have faith. Grant us wisdom – help us not to be dummies – and grant us courage, that we may live these days with God at the center, come what may.
In the name of the Father and the Son and the Holy Spirit.
Amen.
-David J. Bailey is a Pastor at Central Presbyterian Church, Anderson, SC