Hazel Sparks, of Clemson, S.C., shares her story of faith, God and how the church shaped her.
By Charmaine Smith
Independent Mail
CLEMSON – At 90 years old, Hazel Sparks still remembers how it felt to walk past Dr. Nelson Bell's house and see the light on in his study as she headed to breakfast at Montreat High School in North Carolina.
Ms. Hazel, now a Clemson, S.C. resident, grew up in Charlotte. In Charlotte, she first learned about God. But she spent her teenage years roaming around the laurel-ladden pathways of Montreat and that is where she began building on the faith that she learned about in her little pink catechism book.
The world was at war then, she recalls. The families of Japanese diplomats were housed there in those years.
And missionaries who had been serving overseas were returning home to safer surroundings.
One of those missionaries was Dr. Bell. He served as a medical missionary to China. But during the war, he came home to operate a small practice in Black Mountain, and to serve as a pastor where he was needed.
Dr. Bell was father to Ruth Bell Graham, who would later marry the Rev. Billy Graham, and to Virginia Bell, who was one of Ms. Hazel's close friends.
"When I could see a light on in his office, you knew he was up and he was praying," Ms. Hazel said. "He was praying for his world, for the girls at Montreat. It was important for me to know that he was praying for us."
It was there at Montreat that she met with Ms. Mary P. Lord, one of the piano teachers at the school, and talked over questions that she had about God and Scripture and the world. It was at Montreat where she learned the importance of worshipping with the community every week. And it was there where she made her profession of faith, at 14 years old.
"There, in the classrooms at Montreat, we learned to see God in history, in literature, in science – in every subject we took," Ms. Hazel said. "Those teachers, they really loved us. And that shaped us."
She learned about God's constancy from those teachers at Montreat. God was with her when she was 12 years old and her daddy died. God was with her at Montreat when she, and others there adjusted to the worries and fears of war.
"There have been hard places in my life," Ms. Hazel said. "But I never blamed God – and that is because of what I received at Montreat."
It was her time in Charlotte, though, that helped her gain the skills she would need to later become a Sunday School teacher herself. For 36 years, she taught Sunday school. And she was a preschool teacher at Fort Hill Presbyterian Church in Clemson for 21 years.
"I taught children or youth all of my married life," Ms. Hazel said. "And Buddy and I were married for 61 years."
As a child, at Myers Park Presbyterian Church, she memorized the questions and answers in her little pink catechism book. To this day, she still has that book. Her name is written at the top and its pages are taped together. And it lays next to her great-grandfather, C.W. McCoy's Bible.
And she can still recite its contents.
"God tells us over and over again in the Psalms to put his words upon our hearts," Ms. Hazel said. "There may be a time when you don't have a Bible. The war taught us that. It is easier to live by something that is in your heart than something that is written on a page."
In her childhood Sunday School class, Ms. Hazel learned what she believed and why. And memorization of key Scriptures and those catechism questions were an important part of her learning.
Another key part of her Sunday School class were the relationships built there. She can still remember her teacher hosting the church's children at her home. She has fond memories of painting nativity sets at Christmas and going on Easter egg hunts.
"She had a big kitchen," Ms. Hazel said. "She invited us to a candy pull. It was great fun. That was a way that she showed us Christian fellowship. Because that meant so much to me, I liked to have children in my home too, when I began teaching Sunday School."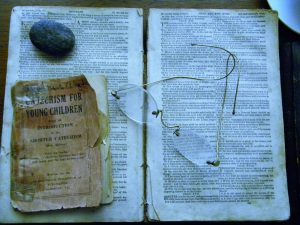 Her role as a Sunday School teacher was not contained to the classroom. Ms. Hazel spent time going to ballparks and piano recitals for her students. Ms. Hazel also modeled Sunday School classroom after the lessons she learned at Myers Park Presbyterian Church.
Key elements to her teaching was memorization, and making sure children knew they were loved.
She expected children to memorize Scripture and those catechism questions.
"I think it is important that children to know what they believe," Ms. Hazel said. "If they can remember statistics and football plays, why not God's word?"
The most important thing she wanted every child to know: They are a child of God, loved by God.
That is the refrain in the song that her daughter, Beth Batson, wrote for her that is now played for every child that is baptized at Fort Hill Presbyterian Church in Clemson, where Ms. Hazel is a member now.
These days, Ms. Hazel does not teach young children. But she is still teaching.
These days, for the past nine years, she has hosted Fort Hill Presbyterian Church's prayer shawl ministry, and she also opens up her home for a monthly Bible study group.
She said that after all this time, she is still learning.
"Even at 90, this decaying body is still growing spiritually," Ms. Hazel said. "I have found that I don't have to know all the answers. I just have to know where to look for some of those answers."
And, if you ride by her home early in the morning, you will likely find a light on in her window. It has become something that her neighbors notice, and will look for, she said.
"That's my witness. I don't have to preach or teach," Ms. Hazel said. When they see my light on, they know. They know I am praying."
Charmaine Smith-Miles is a pastoral intern at First Presbyterian Church in Anderson, S.C., and is in the process of seeking ordination within the Presbyterian Church (USA). She is a new mother, and also on the journey of answering a call to ministry, after spending 16 years as a journalist for a newspaper in her hometown of Anderson. A native of Tennessee, she loves sharing stories, especially the Gospel story and the stories we carry within ourselves.
https://media.myworshiptimes22.com/wp-content/uploads/sites/6/2017/12/20135400/covenant85x85.jpg
85
85
dfoster
http://foothillspresbytery.org/wp-content/uploads/sites/6/2017/01/header_wh.png
dfoster
2017-12-18 05:00:21
2018-07-02 13:09:02
A Light in the Window