By Jackie Putman
It is no secret that today's young adults present unique challenges to the church and world. A quick Google search of the word "millennial" will produce lengthy articles about the ways in which today's young adults upset the cultural and economic norms. If you add the word "church" to that Google search, you will see grim statistics about young adults and the church. According to the recently-released book by Mark DeVries and Scott Pontier entitled, "Sustainable Young Adult Ministry," 70% of 18-30 year olds who went to church regularly in high school said they quit attending by age 23. Additionally, 1/3 of adults under 30 are religiously unaffiliated today.
During this COVID-19 pandemic, when churches are struggling to change the ways that we worship, fellowship, learn, and serve, it may be tempting to sideline young adult ministry until conditions return to normal. After all, young adult ministry is hard enough for the church when participation and budgets are high. However, we are seeing that this pandemic is a marathon, not a sprint. "Normal" is not on the immediate horizon. By neglecting young adults now, the church is missing out on opportunities to nurture young adults through, likely, the most challenging time in their lives, and to benefit from the particular gifts that young adults can offer the church during this pandemic.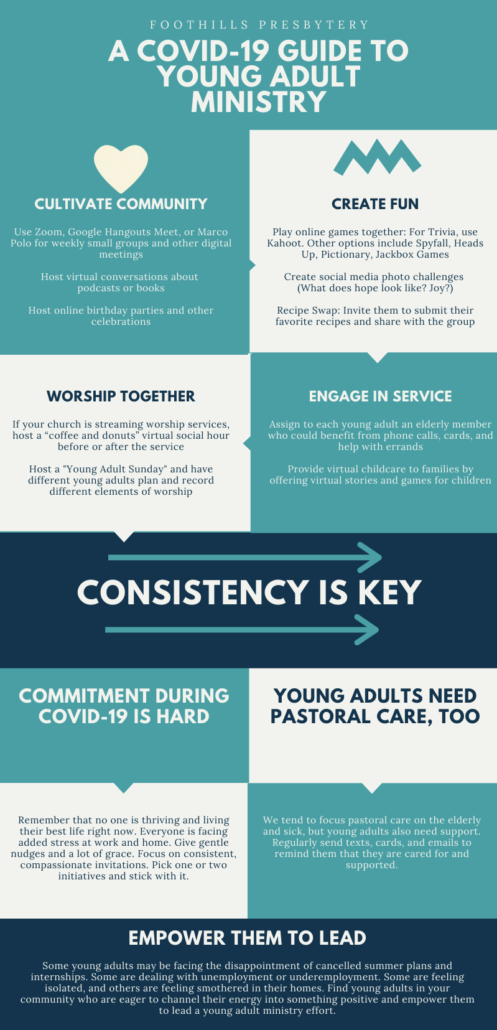 One of the most common complaints about twenty and thirty somethings is that they are too busy for church. But now, with most of their gathering places closed and their schedules wide open, the church has an opportunity to step into those gaps and provide meaningful pastoral care and spiritual nurture. When everything else in their lives is disrupted, the church can remind young adults of God's faithfulness, abiding presence, and love. At their core, young adults crave authenticity and substance- not flashy programs and hip worship. Now, stripped of all of pretense, the church can work to rediscover its most fundamental messages about God's love, presence, and welcome, and trust that, with consistent invitations and focused effort, young adults will draw near to authenticity and hope.
This is also a time for empowering young adults to share their gifts with the church in new ways. Now, more than ever, churches are striving to create and sustain genuine, meaningful, and connectional online community. While young adults often get a bad reputation for having a shallow social media presence, they know better than other generations how to harness the power of technology for good. They are masters at efficiency and innovation, and they are eager to see those skills embraced by the church. Out of necessity, the church can no longer hide behind the words, "This is the way we've always done things." With that barrier removed, young adults can be empowered to create fresh expressions of faithfulness that can carry the church into whatever new "normal" lies on the other side of COVID-19.
Friedrich Nietzsche said, "The essential thing in heaven and earth is that there should be long obedience in the same direction." As we navigate the turbulent waters of young adult ministry in the midst of a global pandemic, be willing to fail. It is possible that you you may find yourself alone in a Zoom game night you worked hard to plan. Next time, empower a young adult the lead the event and keep pressing on. Send compassionate, grace-filled texts to the no-shows and continue to offer joyful invitations to participate. Show consistency, and prove to your young adults that the church is not giving up on them. In doing so, young adults will also hear the good news of the gospel that, in Jesus Christ, God has not given up on them.
---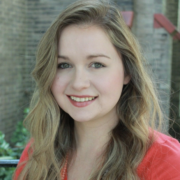 -Jackie is the Associate Pastor for Discipleship and Mission at Fourth Presbyterian Church, Greenville SC
https://media.myworshiptimes22.com/wp-content/uploads/sites/6/2020/05/28102414/Screenshot-2020-05-27-14.08.35.png
560
462
dfoster
http://foothillspresbytery.org/wp-content/uploads/sites/6/2017/01/header_wh.png
dfoster
2020-06-01 01:00:30
2020-05-28 15:06:44
A Covid-19 Guide To Young Adult Ministry