by Mary Moore Driggers
**Hello, Mary Moore Driggers – Young Adult Advisory Delegate from Foothills Presbytery, and I call for discussion** (Presby Polity jokes…what can I say!)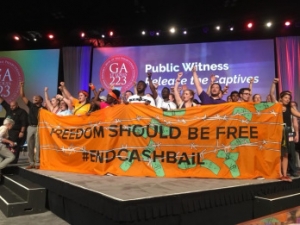 The Holy Spirit surely works in mysterious and yet wonderful ways. On Thursday morning at 3:30a.m I headed out to the 223rd PC (USA) General Assembly in St. Louis, Missouri and did not return until 11:00p.m on Saturday, June 23. It was ten days full of Presbyterian Polity. I did not quite understand what I was getting myself into when I signed on to serve my Presbytery as a YAAD just two short years ago. It was a huge honor to be selected and I tried to take in as much as possible. Some of the things I took in included looking at the world through a new lens. Often times in our little corner in the upstate of South Carolina we forget that there is a whole world out there that is begging to be reached out to. I was fortunate enough to serve on committee seven which was the Ecumenical and Interfaith Relationships team. In this committee I was pushed to dig deeper about what it means to see "outsiders" with a second lens and build relationships with our communities near and far all around the world.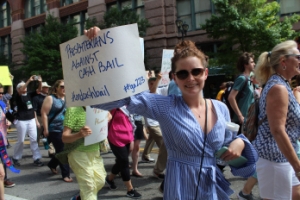 While I was at GA I participated in a march through downtown St. Louis in 100 degree heat with hundreds of Presbyterians. We were not the "Frozen Chosen" that day, instead we boldly chanted as we made our way to the City Justice Center where we delivered a message, and also a check for $47,200 for bail relief. That offering will grant freedom to people held under bench warrants and minor offenses as they await trial and it gets them back to their jobs and families. As we arrived at the steps of the Justice Center, our Stated Clerk, J. Herbert Nelson proclaimed that we are in need of returning to the justice understanding of our faith. We are embarking on the days where we can actively engage in this country and call on the powers and principalities to release those from captivity. In participating in this event it was a great way of showing God's love in the world, it also opened many eyes to see that the Church does not have to have a sanctuary TO BE THE CHURCH! This is what Jesus meant when he says "release the captives" and this kind of movement is actually the way forward for our church in the 21st century.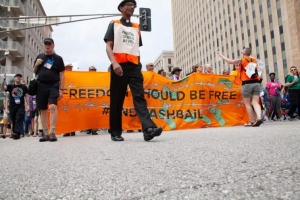 When there is no justice, there is no peace. I am happy and proud to have stood with my siblings in Christ during that scorching hot Tuesday afternoon. It in fact was what democracy looked like. It in fact was what Theology looked like. It in fact was what community looked like. It in fact was what a family looked like. And more than anything, it in fact was what the KINdom of God looks like.
This term of "The KINdom of God" is what we constantly were referred back to during the General Assembly. Through this we explored new ways to be at the table with others alike and not. As Presbyterians, though we might be reformed, we are always reforming! A new age has come and the church is changing. That day we all lifted our voices with those who were and are incarcerated simply because they don't have $50 to post bail before their trials. People should NEVER be punished simply for being poor. I stood that day because I knew there were not only human beings in that place, but God was in that place, and when God's family is hurting, God hurts.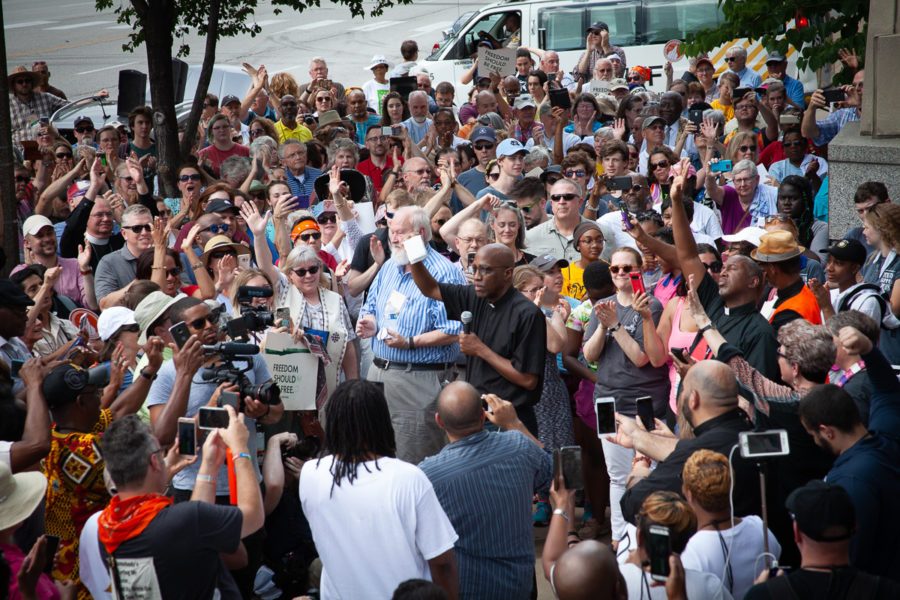 https://media.myworshiptimes22.com/wp-content/uploads/sites/6/2018/07/20135401/j-herb85x85.jpg
85
85
dfoster
http://foothillspresbytery.org/wp-content/uploads/sites/6/2017/01/header_wh.png
dfoster
2018-07-03 12:50:04
2018-07-04 11:12:15
223rd General Assembly